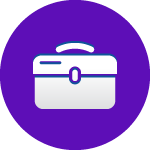 Wireless services can now deliver 1Gbps to multiple users across your entire workplace.  High speed enables faster delivery of information and services to your customers and staff.
We have a very broad range of technologies available to satisfy any point to point connection using licensed, or unlicensed radio, or Laser links.  All of our solutions are extremely secure, utilising the latest encryption standards and highest available throughput.
Contact us today or alternatively find out more about the services we offer or the different types of technology we use. You can also read more about how we have helped other businesses improve their network connectivity by reading our case studies page.