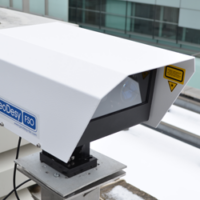 Free Space Optical Laser link (FSO Laser Links) Point to Point connections from WIN are used as an alternative to renting expensive leased lines or digging and laying fibre between locations, to provide fast, secure connectivity for data, voice and video.

Call us today for your free consultation
0845 003 9233
Our High quality laser links are used for short distance connections between two locations. They deliver 1Gbps full duplex wireless connections for your network and are an excellent cost effective alternative to laying fibre between locations. This technology can present a variety of interfaces to the network at each end of the link and so be used to connect data, voice or video.
Line of sight only
The technology is light in the visible spectrum
Data rates which are full duplex, are typically 1Gbps, or greater
Ideal over short distances – typically less than 1Km, where a robust all-weather link is required.
Note: Be wary of claims of longer distances with high all-weather availability!
For more details on the technology used in our optical wireless networking solutions please call or contact us