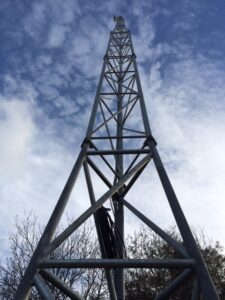 Fox-VPS Ltd manufacture precision machined components, castings & finished assemblies to a variety of different markets.  Fox VPS have two sites on a single industrial estate. The sites were previously connected by a VPN which made for long waits when transferring CAD images from the office to the factory, a solution used since the acquisition of the second site in 2005.
Fox VPS ltd contacted WIN Wireless to implement a high speed wireless solution to provide building to building connectivity, a seamless network and to reduce staff downtime.
The immediate solution was not without its challenges. The two sites situated 3km apart, the office being a two storey building and the factory a single floor building, line of sight was not available. WIN Wireless proposed a full solution on how to achieve the critical high speed link between the two buildings. The first stage of the solutions included the organisation, installation and delivery of a WEC 15m lattice tower. With the lattice tower in place, WIN Wireless installed a wireless LAN using high speed Point to Point line of sight technology to achieve the critical link and to improve staff productivity.