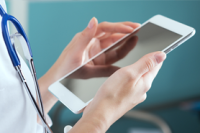 Connecting for Health recognises that Healthcare providers can improve patient care if they are able to share information about the patient between all the carers involved. Wireless network solutions from WIN are helping to modernise patient care and health services by providing an infrastructure to support existing applications, such as administration systems, clinical systems and Electronic Patient Records as well as the new national initiatives such as the Care Record Service.
Health professionals everywhere – from the GP's surgery, to hospitals, paramedics and community health workers – are benefiting from increased access to vital patient and medical information through extended data networks.
Whatever connectivity issues your healthcare organisation is facing, wireless infrastructure from WIN provides an answer:
Contact us today or alternatively find out more about the services we offer or the different types of technology we use. You can also read more about how we have helped other businesses improve their network connectivity by reading our case studies page.